Information on your visit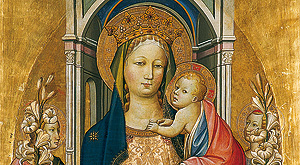 Central part of the triptych by Maestro del
Bambino Vispo, Florence, c. 1410 (section)
© Martin von Wagner Museum
Further sights
Martin von Wagner Museum
of the University of Würzburg
The south wing of the Würzburg Residence houses the Martin von Wagner Museum with its antiquities collection, art gallery and graphic arts collection (the museum has a separate entrance).
Further information about the Martin von Wagner Museum at www.martinvonwagner-museum.com
---
Further properties administered by the Bavarian Palace Administration in the Würzburg area are the impressing Marienberg Fortress and Veitshöchheim Palace with its famous rococo garden.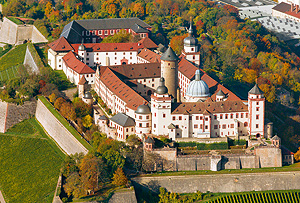 The original castle on the Marienberg, a hill which was first settled in the late Bronze Age, was probably a small fort built early in the 8th century by the Franconian-Thuringian dukes, together with a church which in 741 became the first church of the Würzburg bishops. From 1200 an unusually large castle was built, which was extended during the late Middle Ages and the Renaissance.
Following the storming of the castle by the Swedes in 1631, Prince-Bishop Johann Philipp von Schönborn built a circle of massive bastions, which are the dominant feature of Marienberg Fortress. St Mary's Church (Marienkirche), which dates back to AD 706, the forty-metre-high keep and the well house with a cistern over 100 metres deep are impressive monuments to an over 1000-year history.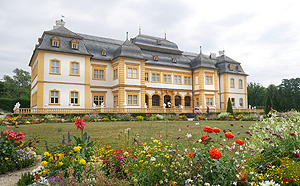 The summer palace of the Würzburg Prince-Bishops, built in 1680/82, was enlarged in 1753 by Balthasar Neumann. The rooms furnished in 1810 for Grand Duke Ferdinand of Tuscany with their rare paper wall-coverings are a highlight of the interior.
The famous Rococo Garden, a magnificent creation with lakes and waterworks, dates from the reign of Prince-Bishop Adam Friedrich von Seinsheim (1755-1779). It is populated by over 200 sandstone sculptures of gods, animals and allegorical figures by the court sculptors Ferdinand Tietz and Johann Peter Wagner.
On the ground floor of the palace the exhibition "Es kommen immer Leit aus Würzburg und Frembde hierher …" on the history of the Court Garden is on display.